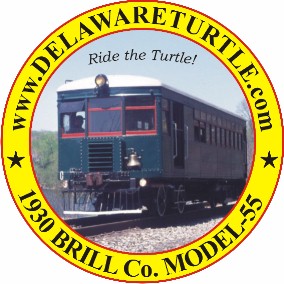 The DELAWARE TURTLE
Ride the Delaware Turtle, our beautifully restored 1930 Brill Model-55 Motor Car. This self contained train is reminiscent of the glory days of railroading when trolley and interurban railways crisscrossed the nation and the personal automobile was still a novelty. Enjoy the rich mahogany interior, horse hair seats, and open windows. Sorry. no air conditioning, cell phone service, or internet connections on this train!
All Aboard!
Now at the
BLACK RIVER & WESTERN R.R.
FLEMINGTON, NEW JERSEY
for a Limited Time!
SCHEDULE
SATURDAYS & SUNDAYS
Also Labor Day
August 26 through October 1, 2006*
DELAWARE TURTLE DEPARTS

Ringoes
Station
Flemington
Unity Bank
Flemington
Liberty Village
10:45 am
11:25 am
11:30 am
12:15 pm
12:55 pm
1:00 pm
1:45 pm
2:25 pm
2:30 pm
3:15 pm
For more information:
Call 908-782-6622 or
Go to Black River Railroad Historic Trust

M-55 - The Delaware Turtle


Built: 1930 J.G Brill Company, Philadelphia, PA
Power: 250 H.P. Chevrolet 366 V8 Gas Engine
Length: 44' Height: 10' 5" Weight: 28,000 lbs.
Passenger Capacity: 44
Total Capy. Freight/Mail/Pass.: 14,000 lbs.
M-55 was completely restored by the Edwards Railway Motor Car Co., at Mt. Dora, Florida in 2004.

Have a Railroad?
Need a Train?

Due to its relatively small size, the Delaware Turtle can transported quickly and economically to nearly any location by tractor trailer. It has operated on the Mt. Dora Scenic Railway in Florida, the Belvidere & Delaware River Railway in New Jersey and the Arizona Eastern Railroad at Globe, AZ.

The Delaware Turtle is available for short or long term lease, subject to availability and prior commitments. For more information call 908-797-7300.

Delaware Turtle loaded for movement from
New Jersey to Arizona in late 2005.
Return to Black River Railroad System Home Page